AppMakr – DIY App Creation Platform
AppMakr is a do-it-yourself app creation platform that lets anyone make their own iPhone apps, Android apps and HTML5 mobile friendly websites — with no coding required.
By integrating our App Security API, AppMakr started to generate new monthly recurring revenue within 24 hours – we believe in sharing the love with our partners.
Integrating MetaCert has been a huge win for our business. Their API was easy to integrate and makes our apps substantially more secure, which in turn makes our customers have stronger trust, which means more revenue.

The reality is, it probably would take a company longer to put together the launch campaign for including MetaCert, than it would to integrate the actual service. It was that easy.
Jay Shapiro, Founder & CEO, AppMakr
How it Works for App Publishers
As you can see from the screen shot below, publishers are offered two security add-ons just before the checkout process is complete. They are offered 'malware & phishing' protection and 'pornography-blocking'.
Offering publishers security add-ons does not disrupt the build or sales cycle for app platforms. The numbers speak for themselves – over 70% of all apps built on AppMakr, subscribe to at least one security add-on, while over 80% of those subscribe to both.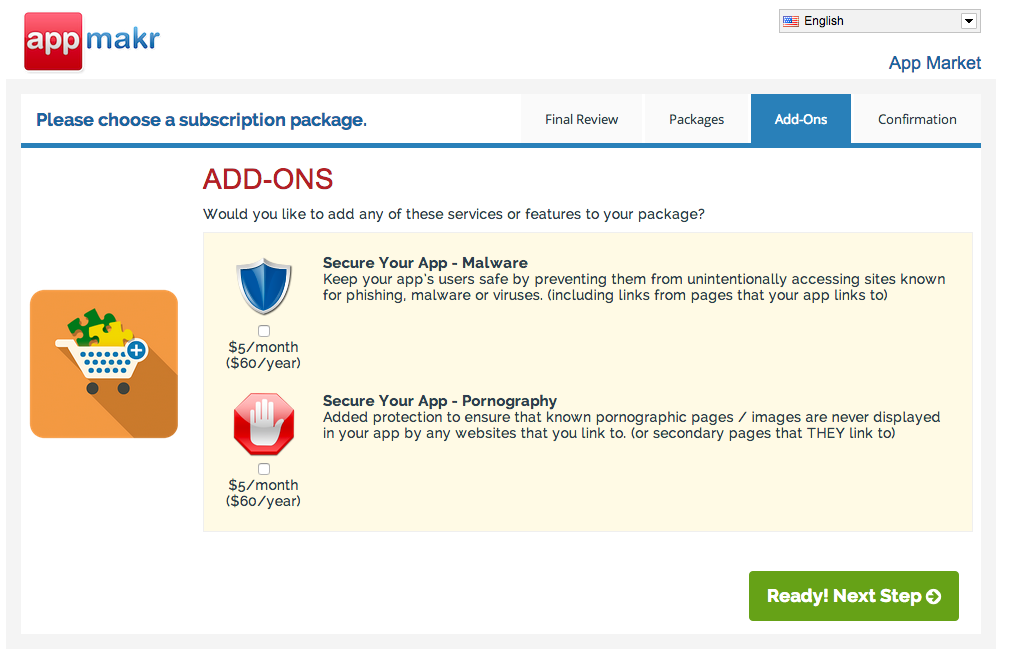 App publishers who integrate a security add-on get to promote their app as "Protected by MetaCert". This helps them to demonstrate to end-users, that they care about their safety and wellbeing. Pornography-blocking is particularly useful for educational and faith-based apps.
How it works for end-users
When an end-user selects a web link inside the app, MetaCert does a quick check against a constantly evolving database of categorized URL's. If a URL falls under one of the prohibited categories, the end-user is redirected to a warning page explaining why the content has been blocked.
AppMakr offers a 30-day no-risk free trial, so app publishers pay nothing if they are unhappy with their app or security service.
What can be Integrated?
MetaCert technology can be integrated into a different number of ways. From exposing the API through plugins to making it completely invisible to your users, multiple options are available:
Abstracting MetaCert API by offering a plugin that your customers can use to build their own applications
Calling MetaCert API from your backend before opening or indexing URLs, making sure they are safe
Asking MetaCert API whether a URL is safe to use before displaying it in a chat window
Choosing which URLs to embed based on their safety, as retrieved from MetaCert API
Building your own Integration
To make things easier, we provide ready to use SDKs in popular programming languages. If the language you're using is not listed, please get in touch and we'll be happy to offer an SDK that you can use:
If you would like to discuss the integration of MetaCert with your App Platform, please email partners@metacert.com
We can help you get up and running within a few hours.